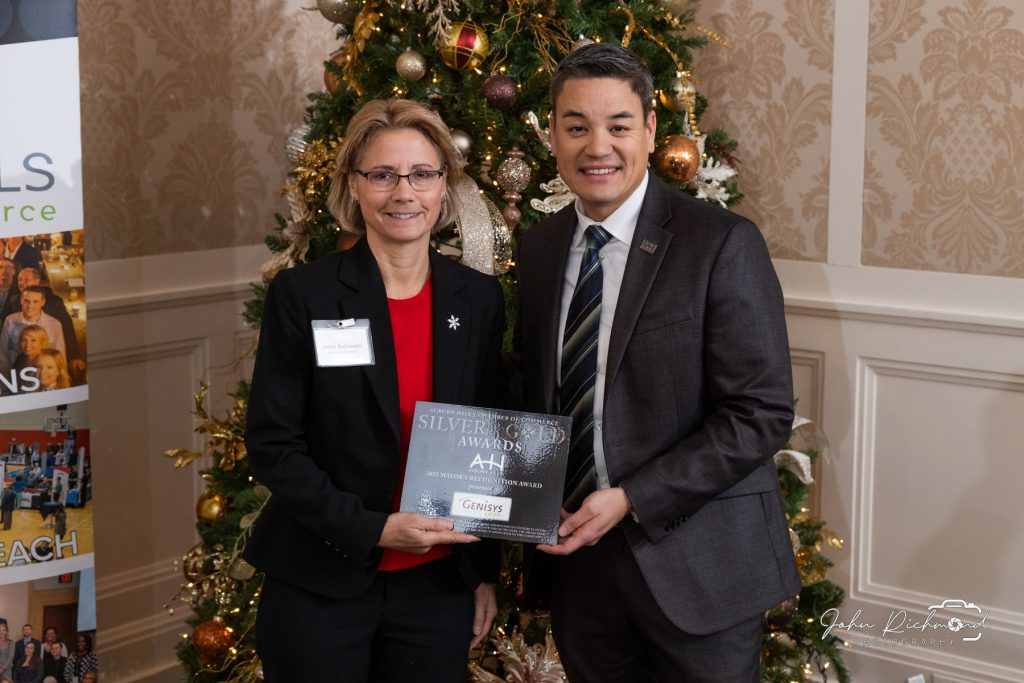 In honor of their commitment to community, Genisys Credit Union was awarded the Mayor's Recognition Award from the City of Auburn Hills Mayor Kevin McDaniel at the 2022 Auburn Hills Chamber Silver & Gold Awards.
The award is bestowed upon a recipient who has gone above and beyond to contribute to the success of the community by way of time, talent, and / or treasure. The award seeks to recognize those who exemplify the spirit of giving back to the community.
"Our deepest thank you to Mayor Kevin McDaniel for recognizing and honoring the efforts of the Genisys team for giving back to the Auburn Hills community," said Jackie Buchanan, President and CEO of Genisys Credit Union. "At its core, the foundation of Genisys is rooted in the philosophy of 'people helping people.' We are grateful to be able to do just that in all that we do; for our members, communities, and team."
The credit union has been a longtime supporter of signature events hosted by the City including: Summerfest, Paddlepalooza, National Night Out, and Diwali Festival of Lights. They are also active in giving back through volunteering, advancing financial literacy efforts in schools by hosting financial reality fairs, and much more.
This year, they partnered with the City of Auburn Hills to build a gazebo at Riverside Park in Downtown Auburn Hills. It is their hope that the community will use the gazebo as a place to gather and enjoy the features of the park such as the Clinton River, the playground, and more. The credit union places a focus on impacting the civic life of their neighborhoods by creating shared community spaces for community members to enjoy.
"The City of Auburn Hills is honored that Genisys Credit Union has its headquarters in Auburn Hills," said Kevin McDaniel, City of Auburn Hills Mayor. "It is with their combination of volunteerism and financial generosity to their hometown that is a testament to their commitment to the Auburn Hills community."