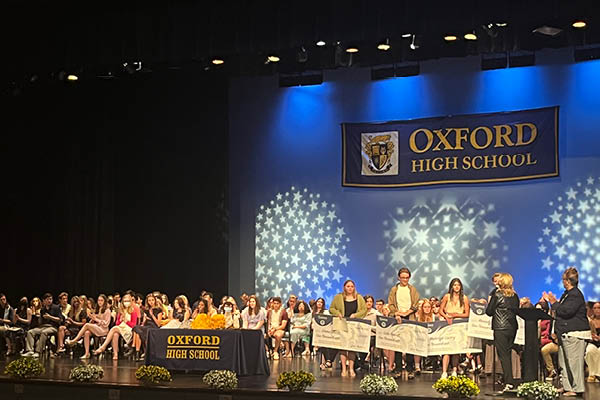 Earlier this year, Genisys Credit Union and the Oxford Chamber of Commerce launched the Genisys Credit Union Community Pride Scholarship. On May 16th at the Oxford High School (OHS) Senior Awards Ceremony, four graduates were each awarded the $1,000 scholarship: Luke Farwell, Kennedy Konkle, Emma Riddle, and Makenzie Lawrey.
"As Luke, Kennedy, Emma, and Makenzie move into the next stages of their education, we are honored to offer them support as they pursue their educational and life goals," said Jackie Buchanan, President and CEO of Genisys Credit Union.
As part of the scholarship, applicants needed to reflect and answer the question: What does the Oxford community mean to you? The selected recipients displayed a great level of dedication to their communities, passions, and academics.
Luke Farwell will be attending College for Creative Studies to study Illustration. He uses art as a way to express himself and to change the world. One of his recent paintings was chosen by Michigan Governor, Gretchen Whitmer, as the cover for the State of the State Address Program. For his application, Luke submitted a meaningful painting of the sunrise that serves as a "reminder of the beauty of Oxford and new beginnings."
With a love for nature, Kennedy Konkle received her admission to Lake Superior State University to study Environmental Science. She participated in a three day Environmental Wilderness Expedition through Santa Fe National Forest. Another passion of hers is working with Leader Dogs for the Blind; she has raised three Leader Dogs with one of them graduating training to be placed with a client. "Kennedy is an incredible young woman whose joy for life, dedication to the community, and love for her family is an inspiration to everyone who knows her," said Jodie Quisenberry, a close family friend of Kennedy's.
Soon to be Spartan, Emma Riddle is attending Michigan State University to study Global History. Throughout high school, she was active in the OHS Marching Band and assisted "Oxford Gives Back," a student-led charity. Emma has been a source of strength and light in her community by being there for students at prayer vigils, community gatherings, and by giving back to low-income households and senior citizens. "Emma is a leader, not a follower, and the best part is she leads from a healthy sense of identity and purpose," said Dr. Adam Hill, professor of Theology and Philosophy at Rochester College.
Makenzie Lawrey will be studying Diagnostic Medical Sonography & Health Administration at Baker College. She is a member of the United Mitochondrial Disease Foundation and Motor City Mitten Mission. Makenzie helped raise $15,000 for her brother in order for him to get a seizure alert service dog. "One of the many things that stands out about Makenzie is the dedication she possesses to raise money to support The United Mitochondrial Disease Foundation," said Rene DeRyckere, English Language Arts Teacher at OHS. She is also a published author of the children's book Mighty Mito Superhero.
"As an Oxford Alumni and parent, it was great to see the Oxford Chamber and Genisys Credit Union partner in giving back to the Oxford community," said Jeffrey Roe, Oxford Chamber President. "We had some outstanding candidates to select from with diverse passions and goals. We hope these students leverage these scholarships to continue pursuing their goals with the same work ethic they have shown to date."