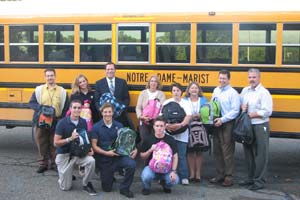 Auburn Hills, MI, September 27, 2011 – Genisys Credit Union partnered with Notre Dame Preparatory School and Lighthouse of Oakland County on September 17-18 to bring Stuff-A-Bus to the 32nd Annual Michigan Renaissance Festival, collecting thousands of school supplies for area children.
"Genisys Credit Union is a community leader working with and setting an example for Notre Dame Prep students," said Priscilla Perkins, Chief Development Officer at Lighthouse of Oakland County. "The number of students who pulled together to help 'Stuff-A-Bus' with Genisys' support is a remarkable statement on how a community-minded corporation utilizes a variety of resources to help the most vulnerable in our communities. Lighthouse is grateful and honored to have been selected by Genisys and Notre Dame Preparatory to ensure that students and families needing assistance receive school supplies and other items to help get them off to a great start this school year."
Patrons of the Michigan Renaissance Festival were encouraged to bring school supplies for the needy, receiving a free child-admission ticket for their contribution.
Without the help and generosity of Notre Dame Preparatory students, families, Hewlett Packard-Pontiac, and Motor City Mad Men, this event would not have been successful.
"Notre Dame Preparatory and Marist Academy is proud of our students who volunteered their time to collect school supplies at the Stuff-A-Bus event coordinated by Genisys Credit Union," said Fr. Joe Hindelang, Principal at Notre Dame Preparatory. "We appreciated the opportunity to give back to our neighbors in Pontiac through Lighthouse of Oakland County. Community service is an important expectation that we have of our students and they appreciate that their efforts benefit other students who are in need."
Thousands of supplies were collected in the two-day event, and
Lighthouse will be handling distribution of the donated supplies to those who otherwise may not have access to them.
"I'm always amazed at the level of support that is achieved when businesses and the public collaborate on a project to benefit the community," said Tom Alter, President/Chief Operations Officer at Genisys Credit Union. "Community involvement opportunities, such as 'Stuff-A-Bus,' are a great example of how pooling resources together can reduce some of the financial pinch for families."