NCUA Share Insurance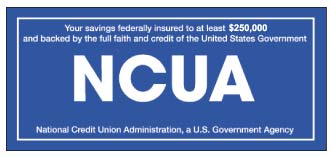 NCUA insures accounts in credit unions through the National Credit Union Share Insurance Fund.
The Share Insurance Fund is backed by the full faith and credit of the United States Government.

The Share Insurance Fund provides essentially the same coverage as the Federal Deposit Insurance Corporation's (FDIC) account insurance.

You can increase your coverage by setting up different types of accounts because the $250,000 coverage is per qualifying account.

Use the Share Insurance calculator to help you maximize your coverage.
The Temporary NCUA Insurance Coverage for Transaction Accounts that permitted unlimited coverage on non-interest bearing transaction accounts through 12/31/12 has expired. The Share Insurance that covers all deposit accounts continues to be in effect. To determine your share insurance coverage, please use the provided Share Insurance calculator.

For more information about temporary NCUA insurance coverage of transaction accounts, visit www.ncua.gov.