Using FamilyMint with with your Youth Account
Long Term Savings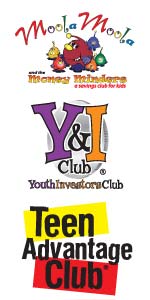 Short term savings
Modern replacement for the piggybank
Simulated online banking experience for kids
Parents hold the money & act as the "banker"
Simplifies everyday money interaction between parents & kids. Saves time.
Kids learn by doing
Kids say they "feel powerful" and their money is "real for the first time"
Builds good money habits
Change "I want this!" to "I'm saving for this!"
Creates teachable moments
Allows for small mistakes in a safe environment
Builds self-confidence
Ongoing educational content

Take a quick video tour of FamilyMint or see how FamilyMint came to be.

Get started today! Click here to sign up now for FamilyMint Premium! Remember Genisys Credit Union pays the subscription cost for you.